Best-in-Class: Sound quality & ease of use

Introduction
To find the winner in this category, we were asking which hearing aids are currently the best solutions that money can buy? Most importantly, this means "sound quality", which we based on technological considerations along with the response and satisfaction of clients. Secondly, the winners in this category should be very easy to use – that is they do automatically adjust to environmental and situational needs to deliver the best listening experience without a user having to think about or adjust their hearing aids. But these were not the only factors we looked at, as we also considered the following:
Wearers tend to favour smaller and more discreet solutions.
Ability to connect wirelessly to other devices, such as mobile phone, music players, laptops and more
And there were two standout performers. The Signia Primax 7 (Ace) and the Phonak Audeo V90.
Signia Primax 7 – ACE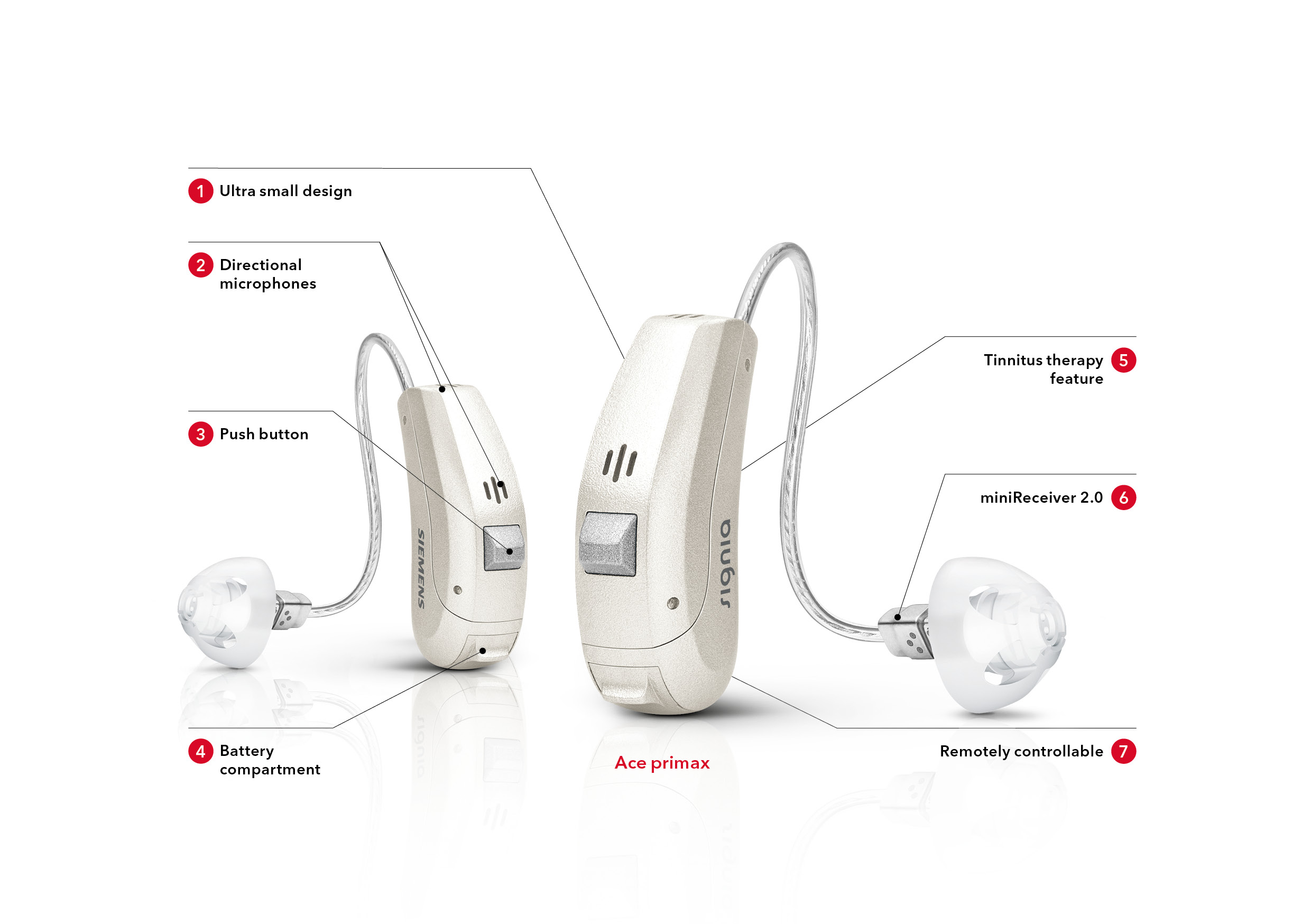 By improving sound quality and audibility, and by tailoring settings to the wearer's individual preference, Signia primax hearing aids are clinically proven* to lead the world in minimising listening effort. They are also a step forward from the binax platform, which were the first hearings clinically proven to allow wearers to achieve "better than normal hearing"in difficult environments.
As the smallest fully functional hearing aid within the Signia primax family, the ACE is practically invisible when worn. It also allows wearers the ability to control volume, balance, programs, and microphone directionality with a smartphone, via the free touchControl™ App.
Choices
Primax technology is also vailable in a range of technology levels (price points) and models, including in-the-canal models. See here.
11 color choices
Key Technologies
SpeechMaster function singles out the dominant speaker. You hear what you want, but not the rest. As a result, hearing becomes effortless and less tiring, all day long.
eWindScreen™ turns down wind noise that can otherwise make listening difficult when outdoors.
HD Music: With its High Definition Music program, primax offers wearers three settings for a fuller, richer sound experience. These settings are "Live Music", "Recorded Music" and "Musician".
EchoShield: Softens the sounds of voices and noise bouncing off walls. By reducing the reverberation, the direct speech is highlighted, further reducing listening effort.
easyTek: Connects all Bluetooth-enabled phones to primax hearing aids. This turns them into headsets that offer wireless hands-free operation.
Remote controllable: Free touchControl App available for iPhone and Android smart phones.
IP67 Water and dust protection.
SmartPhone App
Turn your smartphone into a discreet remote control for your hearing aids. The touchControl™ App lets you enjoy a high level of handling comfort right at your fingertips. Change hearing programs and adjust the volume, bass, and treble to suit your needs. All you need is a smartphone.
Find out more…
Downloads & Links
Video Links
Phonak Audeo V90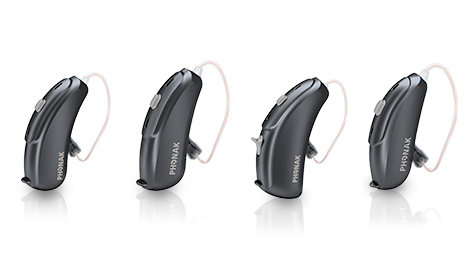 In developing their new Venture platform on which the Audeo V90 is based, Phonak surveyed 2,000 hearing aid wearers to understand their primary needs and what they seek in a hearing solution. This pushed the company to develop a hearing aid that works extremely well automatically, and provided the most rich and full music experience.
Phonak Audeo combine excellence in speech understanding and comfort, while also appealing to your individual style and preferences.
Importantly, they adapt to your precise environment. They are able to recognise when you are in a busy café and activate the "comfort in noise" program. And then, if you start a conversation will seamlessly blend into a "speech in noise" program, without you having to adjust your hearing aids.
Choices
Available in a variety of skin-tone colors.
Available in four (4) form factors
Four technology levels (price points).
Key Technologies & Benefits
Binaural VoiceStream Technology: Enables two hearing aids to send speech from one ear to the other – to deliver stereo quality sound that helps improve speech understanding in noisy environments.
UltraZoom: Improves speech intelligibility in noisy environments by focusing amplification on speech sounds coming from the direction the wearer is facing.
WindBlock: Identifies and turns down wind noise.
DuoPhone: Streams the caller's voice from one ear to the other, creating stereo quality sound.
NoiseBlock: Particular;y effective at turning down environmental noise.
Water Resistant: Water, sweat and dust resistant.
And more…
Optional Extras
Phonak EasyCall II wirelessly connects a Phonak hearing aid with any Bluetooth™ -enabled cell phone and binaurally streams the call directly to the hearing aids for maximum speech understanding.
RemoteControll App: Turns any smartphone (Android and iOS) into a remote control for clients with Phonak Venture hearing aids. This provides your clients with more control and flexibility.
Phonak TV Link II: Phonak TVLink turns Phonak hearing aids into a wireless TV or music headset with stereo sound.
Downloads & Links
Video Links